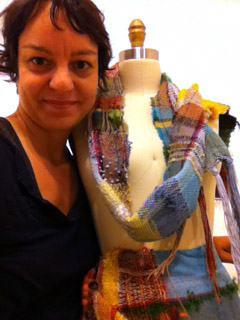 I have recently embarked on a series of art-to-wear pieces interpreting the human anatomy through the use of fiber and weaving, titled "Woven Anatomy". The asymmetry that disease can bring on, and the beauty that can be found in the imbalances of the body are the main themes. Wearing one's bodily imbalance on the outside (bringing the inside out) is an important concept for me. Themes that affect women such as hysterectomy, mastectomy, and the female reproductive organs have also inspired the pieces. This is the focus of the "fiber sculpture" section of this website.
"Clothwork" explores non-woven or mostly-sewn clothing, inspired by world cultures, such as Japan and Mexico. Also featured are patchwork and embroidered wall hangings.
My drawings and paintings contain diverse themes, from the human condition (Butoh and Unquiet Mind), to topographical landscapes (The Mexico paintings), to global events (The Culture of Oil series).
"Winged Victory", from the Woven Anatomy series, will be on view in the Art Below London June 2012 Exhibition at the Underground Gallery in early June.
Please also visit my design website at charlottenoruzidesign.com